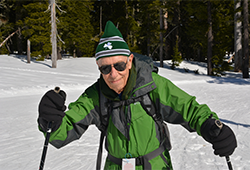 Ed Cleary agrees with all of us that not being able to be in the Gorge is really hard. Staying home and staying safe is nowhere near as much fun as being out in the Gorge capturing photos of memorable and beautiful moments.
Ed was out on Mt. Defiance on one of those days with a friend planning to capture the dramatic view and glorious wildflowers, but instead captured something even more compelling. At the trailhead the sky to the east was dark with lots of unusual colors but to the west it was clear. It was very strange. Once at the top of Mt. Defiance the show was historic and breathtaking. It was a great day to have his tripod along with his standard backpack with his trusty camera. It was May 18, 1980, the day Mt. St. Helen's erupted.
It was also forty years ago when Friends was formed and the six year fight to pass the National Scenic Area Act began. Ed eagerly followed Friends' work to make sure the Act passed and began his long relationship with the organization. He decided early on that he wanted to be a part of the only organization working specifically to protect the Gorge he loved. A member for many years, he says he got really serious when he retired in 1999.
Steadfast about the importance of tithing and conservation he is dedicated to Friends' work because protecting the Gorge is close to home and many people have worked to keep it from becoming an industrial site or wall to wall vacation homes. When asked what work Friends does that he believes is most important he said all of it but enumerated his top five--blocking coal and oil terminals, monitoring the Gorge Commission particularly on keeping the Urban Growth Boundaries under control and stopping excessive logging or illegal quarries. But foremost among these he feels the most immediate threat is coal and oil because politicians are subject to influence and of course because of climate change. Simply put he says, "If climate change isn't addressed nothing else matters."
As an ardent conservationist he also feels that we must not lose old growth forest because wilderness is critical for the human condition. "We need to get away and get out and see nature." Ed is putting his beliefs into action with his decision to leave a legacy gift to Friends. "I am making my gift to Friends because I want people in the future to be able to see and do what we see and do in the Gorge now. It will be an uphill battle. But it is worth it."
We agree with you Ed and thank you!