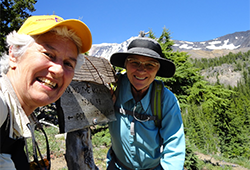 A shared love of the Columbia Gorge is one of many things that unite Linda Besant and Martha Goetsch.
Linda grew up backpacking, skiing, and hiking in Colorado. When she arrived in the Pacific Northwest for college, a group of friends made a simple suggestion: let's go check out to Multnomah Falls. For Linda, that day changed everything. The power and beauty of the plummeting falls and lush understory overwhelmed her. A seed was planted in her heart and mind.
A few years later, driving through the Gorge, Linda stopped to take in the sunset at Crown Point and was struck by the thought that this was probably the best and most beautiful place to live in the world. The roots had taken hold and the seed was able to sprout.
Martha's early calling to conservation was born of theory and philosophy, rather than epic moments of realization. Growing up in Berkeley, she enjoyed hiking up the hills behind her house to behold the magnificent San Francisco Bay, but she also witnessed the negative impact of population growth there.
When Martha moved to Portland, she knew that the Gorge had to be protected or it would be lost forever. Realizing that conservation is a relay race in which the baton is handed to later generations, Martha wanted to continue the conservation work of those who came before her. An ob-gyn physician with a day-and night job, Martha decided that while she was busy caring for patients, she wanted to contribute to the organization that was devoted to caring for the Gorge.
Linda and Martha both increased their Friends commitment largely because of its leadership: our board and Executive Director Kevin Gorman. As a former executive director herself (of an outdoor adventure program for people with disabilities), Linda appreciated solid vision and focus. Both wanted to leave a legacy gift to a healthy, well-run organization and decided to include Friends of the Columbia Gorge in their estate plans.
In the year before the stay-at-home orders, Linda and Martha enjoyed hiking along the Klickitat River and biking on the newest segment of the Historic Columbia River Highway. They love the natural variety within the Gorge and can't wait to join some service trips once the Gorge has enjoyed a breather from people. They are hopeful for the future of Gorge protection and agree that collaboration will be the key to ensuring Friends is able to succeed.
Thank you, Linda and Martha!