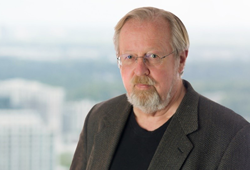 Bob Hogfoss has a long history of loving the Columbia Gorge. One of his earliest memories is of Celilo Falls, when he was just 5 years old.
A deep curiosity about the natural world and the history of place led Bob to study anthropology and ethno-botany in college. Before becoming an environmental attorney, he worked with indigenous communities and co-authored an atlas of Oregon tribes. He also spent several years fighting wildfires in the Gorge as a member of a helicopter crew.
Between flying, hiking, and studying, Bob has a unique and extensive understanding of the Gorge. He is currently working on a book titled "Natural History of the Columbia River Gorge" that will share some of this valuable knowledge and inspire more folks to get involved in protecting it. Ever conscious of his impact, Bob plans on donating book proceeds to Friends.
Bob believes that the groundswell of support for Gorge protection is due to Friends' work, and that no other entity is as effective at preserving the Gorge.
His biggest concerns for the future are climate change, population growth, and special places like the Gorge becoming overcrowded, or loved to death. He is including Friends in his estate plans because he knows he can trust Friends to understand these threats and to do the necessary work that will keep them at bay.