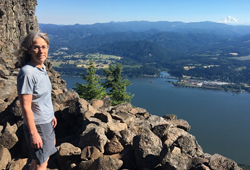 When Colleen Wright won the grand prize in Friends' 2018 photo contest, what seemed to set her apart from previous contest winners was the fact that she used an iPhone, not professional camera equipment.
News outlets argued that Colleen's win marked a new age of photography, one in which anyone with a good eye and a smart phone can produce high-quality fine art photography.
We love the prospect of breaking down barriers and empowering more people to take photos - especially in beautiful outdoor locations like the Gorge! However, after getting to know Colleen better, we think the most interesting thing about our 2018 photo contest is actually her.
Colleen first came to Oregon by way of New York when she was 21 years old. She was asleep as her friend drove into Oregon, but she woke just in time to see Mt. Hood and promise herself that she would climb it one day.
It was while achieving that goal that Colleen fell head over heels in love with the area surrounding Mt. Hood, particularly the Gorge.
Colleen learned about Friends during the deconstruction of a sub-division at what is now the Cape Horn overlook. She was hiking the classic trail when she met a group of Friends' members who were celebrating with popsicles. She has been a steadfast supporter of Gorge protection work ever since.
Colleen and her husband Kevin decided to leave a legacy gift to Friends because they wanted to make a difference and support an organization that they love and respect. They know they can trust Friends to keep the Gorge wild.
Colleen and Kevin wake up early nearly every weekend morning to beat the crowds and get out on the trail by 7am. She loves so many spots in the Gorge but Herman Creek is probably her favorite place to hike.
After the devastation of the Eagle Creek fire Colleen returned to her favorite trail, expecting to feel sadness and loss. Instead, she witnessed a different kind of beauty. It was raining so she only took one quick photo: an evocative shot of blackened trees covered in morning fog with the sun inching out of the clouds and burning through the mist.
We are so glad that she did.