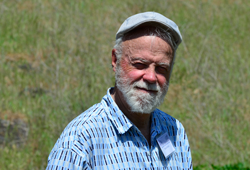 David Pollock's love for the Gorge seems almost inevitable. His godfather Aubrey Watzek was close friends with Portland architect and Gorge conservationist John Yeon, and Yeon was a recurring fixture in David's life for over forty years.
But despite his unique proximity to this conservation legend, David fondly credits other figures in his life as the true inspiration for his passion for the Gorge: "My interest comes from my parents' stories of how impressed they were when seeing the Gorge for the first time from the old Columbia River Highway in 1936 coming from Iowa." This interest was also nurtured by Aubrey Watzek, who also loved the outdoors.
Recently David decided to leave the bulk of his estate to land preservation in the Columbia Gorge. After a career as a history teacher David's passion for travel took him all over the world, but it's here locally where he is excited to make an impact.
David feels that this gift is a fitting tribute to those who most shaped his life. He hopes his decision will inspire others to join the effort, either financially or by volunteering. Thank you David!