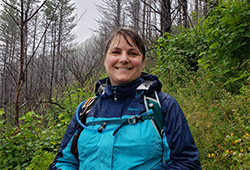 Michele moved to Portland from the Midwest in 2007 and experienced the Gorge for the first time. Her very first hike was to Angel's Rest back when it wasn't crowded at all. She fell in love with it and decided to start hiking on a regular basis to recharge and find inspiration. She found the Gorge a perfect match to her love of the outdoors and her desire to quickly getaway for respite. Though she still finds the Gorge an amazing place, now she finds hiking in certain areas is just too crowded.
Keeping the Gorge a place that is beautiful and not over-used is important to Michele. Her vison is to make certain people who come to Gorge can appreciate and experience it but should do so but in a way that does not damage it. Along with logging, mining and other uses, the Gorge is threatened by just too many people. Both now and in the future Michele feels the responsibility to protect the landscape and wildlife for its sake as well as for all to enjoy. She feels education for all who spend time in the Gorge is critical—which is another reason she loves supporting Friends work.
She decided to join Friends because she felt it was important to become a member to protect this new paradise she had found and could escape to easily while living in Troutdale back in 2007. Fighting a fight to protect a place that she loved and knew was under threat made sense to her. She also realized that it will be there long after she is gone and no longer a member, so it resonated with her that legacy giving made sense, too. She says, "I want to contribute to a fight that even when I am gone in 200 years I know the Gorge will be protected."
Even though Michele is in her forties which is relatively young for folks doing estate planning, she has a clear vision that she wants Friends to continue its work to protect the Gorge as a part of her legacy. She also felt it is important for loved ones to have things in order because as she says, "Age doesn't matter. Any of us could go at any time and having a plan makes things easier for family and I can be certain my intentions are carried out."
Thank you, Michele for taking care of the Gorge now and in the future!